Description
Nemco 55600-1 Specifications
The Nemco 55600-1 Easy Tomato Slicer is a full-size commercial machine with advanced design and safety features. Its razor-sharp blades make 3/16" slices quickly and accurately, and its self-lubricating track ensures trouble-free performance. Its compact form factor saves 60% of counter space compared to bulkier models, making it ideal for busy production. It's also suitable for slicing mushrooms and strawberries.

Nemco 55600-1 Specifications
Low Price Guarantee On All Nemco Products!
This slicer cuts 3/16" inch tomato slices. Now you can save time, labor and valuable work space with the Easy Tomato Slicer. A full-size machine, its highly efficient design takes 60% less counter space than other, bulkier units. Razor-sharp blades cut with trouble-free precision thanks to a unique self-lubricating track material that resists misalignment problems that cause nicks and broken blades. Vertical handle and protective guards improve user comfort and safety. Quick and easy to clean. The Easy Tomato Slicer is ideal for slicing strawberries and mushrooms too. Perfect for keeping fresh tomatoes on hand for hamburgers, subs, salads and salad bars, sandwiches, prep tables and condiment trays.
Features:
3/16" slice razor-sharp stainless steel blades
Unique self-lubricating track material that resists misalignment problems
Vertical handle
Protective guards
Polyethylene slide board
Removable sturdy push block
Cleans up quickly and easily
NSF approved
Manufacturer Information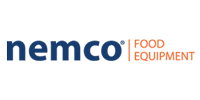 | | |
| --- | --- |
| Brand | Nemco |
| Model | 55600-1 |
| Model | 55600-2 |
Item Dimensions
| | |
| --- | --- |
| Weight | 9.00 lbs. |
| Width | 8.00 in. |
| Depth | 15.00 in. |
| Height | 8.00 in. |
Payment & Security
Your payment information is processed securely. We do not store credit card details nor have access to your credit card information.
3609 Garth Road
Decatur, AL 35603
(256) 353-8847
Monday - Friday: 8 AM - 4 PM
Saturday: By Appointment
Sunday: By Appointment
Get directions